Mamba Production Project

Two students at Loyola University Maryland , Danny Paulson and Mike Pezza (class of '15) helped RVH and fundraised in the Spring of 2015 to purchase a peanut butter making machine. Production started March, and "Mamba" or peanut butter is now available for purchase at the Foyer in Haiti.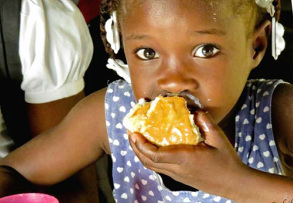 Volunteer Housing - Project Completed March 2015

RVH has contributed (and is continuing to fundraise) to help finish four rooms (purchase doors, windows, floor tiles, etc...) that will provide housing for the volunteers that regularly come and share their expertise. The housing will allow volunteers to spend more time with the children while reinforcing skills and knowledge required for academics, arts and crafts, and home-improvement projects. Funds collected from housing fees go towards purchasing meat and vegetables for the children and pay for medical emergencies. Next US based volunteer trip : Feb. 28 – March 7, 2015

- Project Update Summer 2015

Volunteers sometimes come in groups of 8 or 12 and the one bathroom is not adequate. RVH is looking for funds for $5,000 to add a second bathroom. Volunteers contribute expertise, revenue and essential loving care for the children.


Take out counter and store
Rendez-vous: Haiti 's mission is to alleviate poverty for these children in a sustainable way. By giving the means to the Foyer to develop revenue it is accomplishing that goal. The project of takeout meals combined with a small restaurant and shop that will sell the Foyer's productions, is not only a source of jobs but also a potential sizable revenue generating enterprise.
RVH has just invested $2,800 in this project and is actively looking for additional funds to launch the project. The store has been found, but electricity, cement work, plumbing for water and latrines, as well as new doors and all the material for inside are still needed: refrigerator, stove, counter, shelves, tables, chairs etc…. This project is Maud's initiative, it takes the place of the cart idea and is a much larger concept. We are looking for an additional $5,000 to start. Two workers have been hired to make the preparations and repairs.
Witny and Fenel, two orphans that have worked on the construction of the new Foyer since March 2011 and have been since then, sponsored by friends and families of RVH have been hired to help start this project.
Work has already begun.
Amount sought $ 5,000. Please
donate here.
Zanmi Bands Production and Marketing
A simple band on a mission
The Zanmi bracelets are a symbol of solidarity. Black O-rings are worn by Haitian men in the belief they will soothe their aches.
"Zanmi"("friends" in Creole ) bracelets are the creation of young artists at Foyer Notre Dame de Lourdes in Haiti who transform these recycled car parts into beautiful bracelets.
Each is unique and hand made in limited quantity.
Proceeds from the sales of these bracelets exclusively support educational and professional training programs for the children who live at the Foyer Notre Dame de Lourdes.
To purchase this symbol of solidarity, send an email to
rendezvoushaiti@gmail.com
. All transactions are done using Paypal. The cost is $7 per bracelet, 3 for $20, and please add $2.50 for mailing.
Chicken Coop Project

Thanks to the initial funding generated by Rendez-vous: Haiti club at Loyola University Maryland, a chicken coop was built; chickens of two different breeds were bought and some of the older children, in particular, Edouardson, learned how to care for the chicks and bring them to maturity.

Phase I, started in March 2013 is successfully concluded. This period was an important learning experience for all involved: staff and older children who cared for the hens. It also allowed to establish whether eggs or chicken meat would be most beneficial to the future of the Foyer. It is now certain that the Foyer needs to concentrate on producing meat chickens that are ready for market in six weeks. The Second Phase, is being planned to increase production, sales and distribution.

Rendez-vous:Haiti collaborated with Association française Mère de Miséricorde-Mission (MMC Mission) and successfully facilitated a grant from La Guilde, a French agency that supports development micro-projects. The grant with a match grant from RVH will be used to support this Second Phase of the project.

Making Cards

The card making competition bears fruits and a few boys show real talent; Samuel in particular but also Angelo, Fedner, Jude and Gary.
Without the benefit of formal instructions, these talented young people are producing beautiful original scenes depicting their country Haiti.
Cards can be ordered by sending an email to
rendezvoushaiti@gmail.com
. The cost is $2 per card, 6 for $10, and please add $ 2.50 for postage. All transactions are done using Paypal.

​
Rendez-vous Haiti is a proud partner with the Global Team Players Foundation: A Foundation for Athletic, professional, and Social Development. Loyola alum, Meg Young has been guaranteed a $500 grant through GTP's Define Your Own Grant program, facilitating her ability to build a soccer field and sustainable garden for a youth NGO in Haiti. She has chosen the Foyer Notre Dame de Lourdes and went there in April 2014 to begin her projects.
Read more about Meg on the GTP website.
Visit Global Team Players Foundation's
Facebook page
and follow them on
Twitter
.
By April of 2014, work began at clearing a field adjacent to the Foyer. The ground was rocky, uneven, and rough with vegetation. Countless hours of excavating and weeding by hand eventually paid off. By early 2015, the children at the Foyer were organizing soccer games amongst themselves and other children in the surrounding areas.
---
Rendez-vous: Haiti is a volunteer based, non-profit 501(c)(3) organization that supports sustainable development.
Solidarity in Action. Solidarity that works.