Solidarity in Action. Solidarity that works.


"If the question is: Can one fix a whole country such as Haiti, that has suffered so much turmoil and natural disasters? Perhaps not, but that is not my goal. My goal is to help establish a self-sustainable infrastructure and educational programs so that 96 destitute children can have an opportunity for a better future."
- Catherine Savell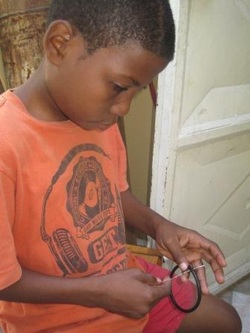 What is Rendez-Vous: Haiti?

Rendez-Vous: Haiti is a sustainability initiative founded by Loyola French instructor Catherine Savell in the wake of the
2010 earthquake in Haiti
. This project is aimed at empowering and enabling destitute Haitians to support themselves, to develop concrete ways to improve their situation, and to sustain their own community.
Since March 2011, Madame Savell has focused her efforts in Santo, a suburb of capital city Port Au Prince. At first as a volunteer on location, she was project manager for Relief Team One that initiated the construction of the New Foyer. Back in the US, she founded Rendez-vous: Haiti and has continued to fundraise, collaborate on the ongoing construction of the Foyer Notre Dame de Lourdes, program developments as well as coordinate US volunteers service trips.
---
Rendez-vous: Haiti is a volunteer based, non-profit 501(c)(3) organization that supports sustainable development.

Solidarity in Action. Solidarity that works.